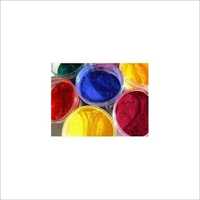 Fluorescent Dyes
Product Description
The offered Fluorescent Dyes are non-protein molecules that absorb lights and re-emit at longer wavelength. These are available in various colors such as red, blue, orange, green, pink, yellow and many more. In addition to this, they have bright and radiant appearance with smooth texture hand-feel. The dyes are formulated by our talented team members and workers in our modern machines under standard international quality. Further to this, dyes are often used in labeling of biomolecules and also as conjugated micro and nano-carries agent in bioassays, imagaing and diagnostic purpose etc. They are ready to used dyes and have 99% pure in assay.
Features of Fluorescent Dyes:
These dyes are easily soluble in different liquids without any trouble.
The provided dyes have 99% purity, stable pH value and small molecule size.
They are packed in protecting packaging to make them resistance against moisture and high heat.
Dyes have long shelf life and do not show any such side-effects.
Contact Us
No. 202, Shradanand Building 272/274, Samuel Street Masjid Bandar(W), Mumbai, Maharashtra, 400003, India
Phone :+918068091136